Reliable Supply - We can deliver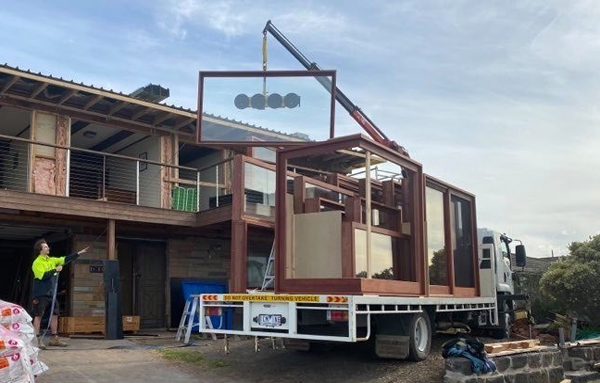 Due to our location in rural Victoria, stage 3 restrictions apply to our business and Paarhammer will continue trading as usual. We would like to reassure our customers that with ample stock, reliable supply and a COVID Safe Plan in place, Paarhammer continues to manufacture custom made windows and doors for energy efficiency and bushfire safety.
Our access to supplies like timber, hardware and glass - which are the most important components of the windows and doors we manufacture - is secured. We can assure our prospective clients that we can deliver because:
Timber:
We have a large shed full of the two timbers that are mainly used in the manufacture of Paarhammer windows and doors. We also have very good relationships with our suppliers whom we have bought from for many years, and they have assured us that our timber supply is not an issue and will not be impacted.
Hardware:
Our windows and doors feature German made Siegenia hardware. This is the hardware we have used for 30 years. Our affiliated company Siegware is their local agent for Australia and New Zealand. Between a long lasting relationship with the manufacturer and having the local agent in-house also means rows and rows of full shelves of hardware are right here, with regulated stock control, and backed up by a reliable supply from Germany. In Germany itself, Siegenia, the family owned 100-plus year old company is in full production. The companies supplying the seals and paint finishes for our products are also in full production with reliable supply.
Glass:
The glazing we use is made by Viridian, an Australian company, right here in Australia. It is then made into double or triple glazed units by Viridian and other local companies. We have ordered from these companies for many years, and as the glass is manufactured in Australia there is no shortage.
Delivery:
Throughout Victoria we deliver with our own crane truck and for interstate deliveries we have contracts with smaller delivery companies who very carefully deliver Paarhammer windows and doors to building sites across Australia, including NSW, SA, ACT, etc.
Being located just outside metropolitan Melbourne, and with manufacturing uninterrupted, we at Paarhammer continue making energy efficient and bushfire safe windows and doors every day for you. Give us a call today.